Podcast: Play in new window | Download
Subscribe: Apple Podcasts | Google Podcasts | Spotify | Amazon Music | RSS | More
---
Drama Free Conversations with Michelle Icard
How much drama do you bring into your conversations? Michelle Icard is on the show today to help us have drama free conversations, whether it's with our middle school aged child or our partner. Listen in!
Who is Michelle Icard?
Michelle Icard is a speaker, author, and educator who helps kids, parents, and teachers navigate the complicated social world of early adolescence. Her latest book, Fourteen Talks by Age Fourteen guides readers through the fourteen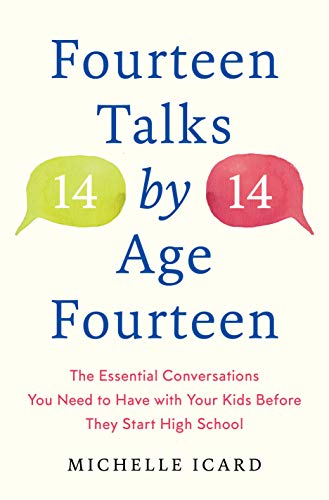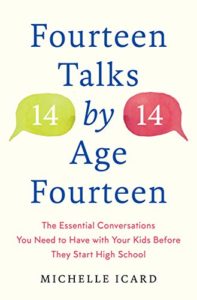 essential conversations parents need to have with their kids before they start high school. Her first book, Middle School Makeover: Improving the Way You and Your Child Experience the Middle School Years, is a primer for the social and emotional changes parents and kids navigate when mid-life meets middle school under one roof.
Michelle is a member of the TODAY Show parenting team and NBC News Learn. Her work has been featured in The Washington Post, The Chicago Tribune, CNN, Time, and People Magazine. Her middle school leadership programs, Athena's Path & Hero's Pursuit, have been implemented at schools across the country and she speaks around the globe at schools and parenting events.
Drama Free Conversations
Listen in to learn how to have drama free conversations with Michelle Icard. We dive into her super helpful conversation framework, the BRIEF Model. It is a simple, memorable, and family-tested formula for the best approach to drama free conversations, whether with your teenager, spouse, or coworker. 
We dive into many facets of communication and relating, including:
What phrases invite connection and which irritate kids or scare them off

 The best places, times, and situations in which to initiate talks

 How to keep kids interested, open, and engaged in conversation

How to exit these chats in a way that keeps kids wanting more
Resources Mentioned
Fourteen Talks by Age Fourteen Book: The Essential Conversations You Need to Have With Your Kids Before They Start High School
Middle School Makeover: Improving the Way you and Your Child Experience the Middle School years
Where To Find Michelle
*Show notes for this episode can be found at https://www.smbwell.com/147
*Continue with the conversation over in our Private Facebook community of women just like you facebook.com/groups/smbwell
*If you liked this episode please let us know on the show's instagram post 👉🏽 https://www.instagram.com/smb.wellness/
Please let Michelle know that you enjoyed the conversation and her work by taking a screen shot of you listening and tagging us both on instagram. Together we rise, dear warrior women!