Podcast: Play in new window | Download
Subscribe: Apple Podcasts | Google Podcasts | Spotify | Amazon Music | RSS | More
---
Do you want to have extraordinary relationships? How about an extraordinary intimate relationship?
If you said anything but YES, I get it. We've been conditioned to believe that our current situation is either 'good enough' or as good as it's going to get. Who are we to ask for more?
I beg you to rethink that. We limit ourselves in many areas of life by believing things we've been told by our family of origin or by what we see around us. This is especially true when we look at the beliefs we hold about marriage and relationships. My life began to change when I began to challenge those messages. My life got extraordinary when I began to dream a bit; When I began to believe that I could ask for more than what my current situation is.
I firmly and passionately believe that an extraordinary intimate relationship is possible for all of us. The beauty is that, with some small shifts, it may be the relationship you're currently in!
How to begin to dream? To want more? To get more? Begin today by listening in to this awesome interview with Alisa DiLorenzo, the podcast host of the #1 Marriage Podcast on iTunes.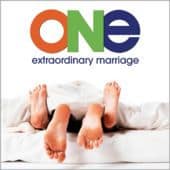 Listen in as we give your real tools and advice on how to have that extraordinary intimate relationship. We discuss it all: the importance of prioritizing our partner above our kids (gasp!), our favorite essential oils for the bedroom, why you may consider scheduling sex, and much more. I loved connecting with Alisa and know you will love listening in.
Links and Products Mentioned:
7-Days of Sex Challenge: How to Rock Your Sex Life & Marriage 
Essential Oils for the Bedroom (Email me Susie@SMBwell.com if you want to order the massage oil Sensation)
19 Questions for Closer Intimacy
Find Alisa and Resources to 

Rock Your Relationship

here:
One Extraordinary Marriage Website    
One Extraordinary Marriage on Instagram
One Extraordinary Marriage Podcast on iTunes
Alisa on Twitter
---
Make sure to SUBSCRIBE to the Love Your Life Podcast on Apple Podcast  so you don't miss another awesome interview or episode! When you subscribe you get the latest shows sent straight to your device!!  ????Extra Bonus Stars???? if you rate and review the podcast because it helps spread the show to even more women!!
Sign up for SMB's newsletter here.
Follow me on Instagram here to get my daily posts and videos to inspire and support you!