Podcast: Play in new window | Download
Subscribe: Apple Podcasts | Google Podcasts | Spotify | Amazon Music | RSS | More
---
Want to Switch from Worrier to Warrior?
Listen in because this week I interview a woman who has made it her life purpose to improve women's lives. Uh hello, what's better than that?
She is the founder and CEO of The Mom Complex, the author of a self empowerment book, and has been featured by The Today Show, The New York Times, The Wall Street Journal, Fast Company, and now the Love Your Life Show!
Her company works with places such as Walmart, Johnson & Johnson, and Unilever to help develop better products and services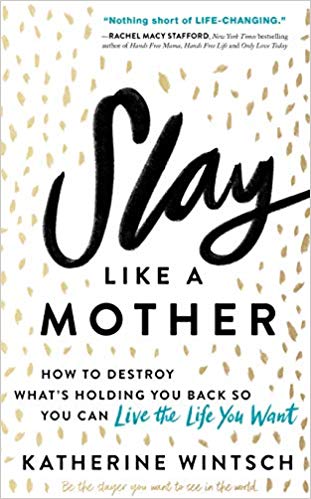 for mothers. Her personal empowerment book, Slay Like a Mother, helps women destroy what's holding them back so they can live the life they want. She regularly writes about the topic of modern motherhood for Working Mother magazine and on the Slay Like a Mother platform. 
Katherine's journey is one you will be able to relate to on some level, whether you're a mom or not. We are all human and living in society these days means we may feel any of the following: feelings of self doubt, that we're not enough, that our worth depends on what others think of us and complete and total overwhelm.
Join us as we discuss it all, including: 
THE MASK YOU'RE WEARING.

The one you hide behind when you say everything is "just fine" when it's not.

YOUR UNREALISTICALLY HIGH EXPECTATIONS:

Where they come from and how to lower them to feel more peace.

BATTLES YOU WANT TO WIN AND THOSE YOU DON'T
THE DIFFERENCE BETWEEN STRUGGLING AND SUFFERING. 

Life can be hard, being a woman can be a struggle. However, how might you be making it harder than it needs to be? 
I loved connecting with Katherine and know you will love listening in. Spread this important message out by taking a screenshot, tagging us both on Instagram (@4smbwellness, @slaylikeamother) and take something off your calendar that you don't want to do. #togetherwerise dear warrior women! 
Find Katherine here:
Slay Like a Mother Book
Slay Like a Mother Website   
Katherine Wintsch on Instagram
Wisdom from Warriors(I kid you not, this is what she titles this page on her website! Check it out!)
---
Make sure to SUBSCRIBE to the Love Your Life Podcast on Apple Podcast  so you don't miss another awesome interview or episode! When you subscribe you get the latest shows sent straight to your device!!  ????BOOK GIVEAWAY???? if you rate and review the podcast this month you are entered to win a COPY of KATHERINE'S BOOK, SLAY LIKE A MOTHER!! Review the show, mention this episode, and be entered to win now!
Come discuss the show in our Facebook Community of Warrior Women here.
Sign up for my signature program (if there are still spots open). Starts 9/15/19: here