Podcast: Play in new window | Download
Subscribe: Apple Podcasts | Google Podcasts | Spotify | Amazon Music | RSS | More
---
"I don't have enough time"
"I can't afford that"
The Thought Model, Time and Money
Guess what? The thought model applies to time and money too!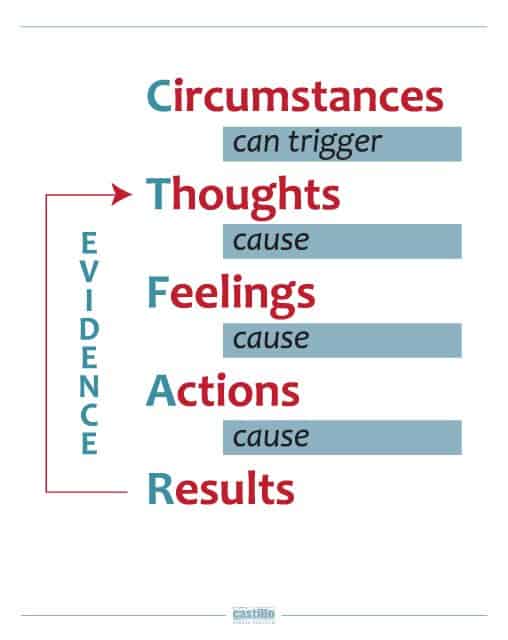 …And that's a good thing.
I believed for many years that the thoughts I had about time and money were circumstances or facts in my life. I would say things like "I don't have enough time" or "I have to work hard to make money" as if they were facts instead of thoughts that I was choosing to think.
As we know, the thoughts we think influence our feelings and actions while driving the results we see in our lives. When I thought those thoughts, I'd feel a certain way and take certain actions to prove my thoughts true.
A personal example? When I say "I have so much to do!", I feel overwhelmed. When I'm overwhelmed, I often procrastinate or complain instead of doing what I need to do. The result? I do have so much to do because I didn't do what needed to be done. It wasn't that there wasn't time. It was my thought about the time. 
Here's an example with money: When I think the thought "I have to work hard for my money", I feel heavy and a bit of dread. The action I take is either to sit down and get my work done in a very deliberate forceful way or I put off working because I'm dreading it.  Both lead to the same result (and proving my thought true): I have to work hard for my money. It actually didn't have anything to do with money and everything to do with my thought.
What Do You Say When You Talk About Time or Money?
Ceri Payne is on the show today and I'm so excited for you to listen in to our conversation. She is a Life Coach School Certified Life Coach who works with women on their relationships with time and money. I'm so excited for you to listen in as we dive into how the stories we tell ourselves about money and the way we speak of time influence our everyday life. Whether we are in the middle of an epidemic or a regular Wednesday in life, the tools we discuss will help you.
Ceri is a certified life coach that successfully created her coaching practice while parenting three daughters, teaching special education full-time, and supporting her husband in his demanding career. She brings her personal experience with managing her FULL life within the 24 hour time frame that we all have without sacrificing her mental, emotional, or physical health. She is a master at helping women in their relationships with time and money and today she's here to help you!
Yes You're Worth It!
Listen in as we get honest and dive deep. We discuss things like how to manage our mornings, our schedule, our finances, and why we need to stop being so busy.  I loved connecting with Ceri and know you will love listening in.
Help us learn how to best help you with your money and time issues by heading over to Instagram and commenting on this podcast's post. 
I invite you to share this Help all of us improve our relationship with time and money by sharing this episode with someone. The link to this page is www.SMBwell.com/96 or the link to the show on any podcast platform can be found here. Thank you warriors! #TogetherWeRise
Find Ceri here:
Ceri's Website   
Ceri Payne on Instagram
---
Make sure to SUBSCRIBE to the Love Your Life Podcast so you don't miss another awesome interview or episode! When you subscribe you get the latest shows sent straight to your device!!  ????Extra Bonus Stars???? if you rate and review the podcast because it helps spread the show to even more women!!
Sign up for SMB's newsletter here.
Follow me on Instagram here to get my daily posts and videos to inspire and support you!